Cymatics Therapy CP3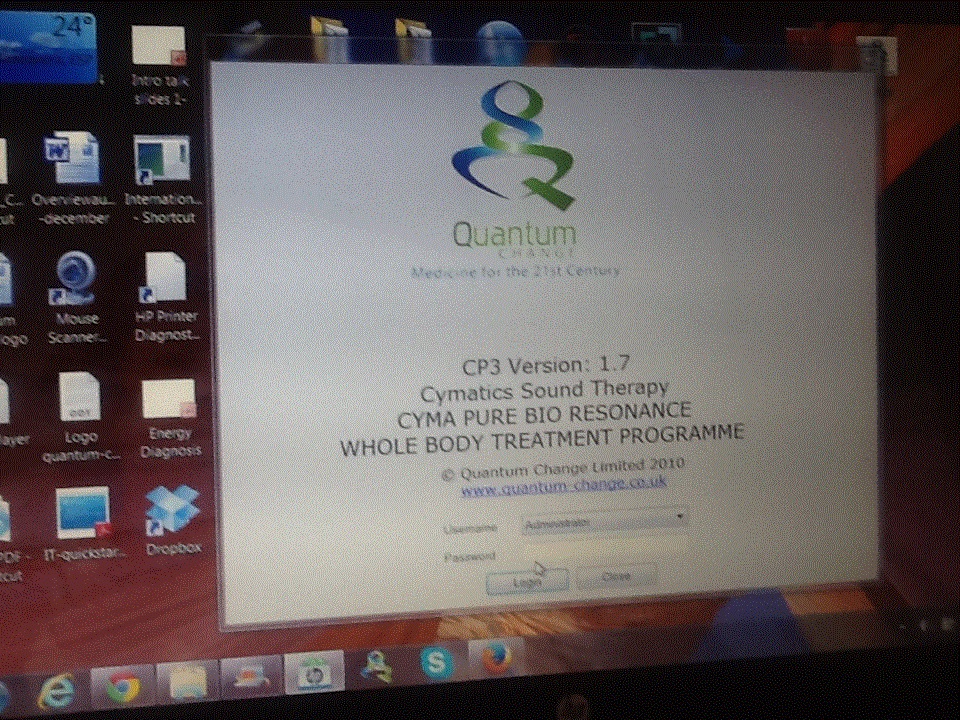 "Sound has the ability to rearrange molecules…."Sir Dr Peter Guy Manners
 Quantum Change is pleased to introduce the latest Cymatics Therapy Instrument with a software programme and the capacity to work across multiple modalities which within any traditional or alternative  health programmes.
The integrated software and application system allows the user to deliver authentic cymatics health computations in a pre programmed way and in accordance to the original work of Sir Dr. Peter Guy Manners. Over 650 comutations covering 23 categories, including medical conditions, physchological and etheric and organs, glands, nueral Bach Flower Remedies and DNA matrix. The programme can be used  for direct physiological treatments, e.g. bone regeneration.. An inbuilt imprinting function and case recording add to the versatility and ease of operation in this, the latest and most affordable bioresonance treatment programme. Contact Cymapure for details of current price and miscellaneous information
Some Features:
There is a built in case recording facility and memory and the capacity to save programmes which are custom made for each user.

Some of the Features include:
Can be used directly on the body in traditional sound therapy and physiological treatment;

Can be used as an Information Science based suystem where the resonance travels to required location and cna be used as a bio resonance tool, to provide clinical treatments for a range of bio     energetics and alternative balancing sessions. 
You can record client details and design bespoke programmes or run pre prepared programmes for yourself or others.
Programmes can run consecutively or be timed according to your own determinations.
Unlimited users can be loaded on to the software package, making it easy to streamline client sessions and to deliver bespoke treatments for your clients.
Original Cymatics frequencies recreated using sound engineering to maintain optimal tones.
Easily appied for the purposes of healing people, animals! and spaces.
Available as a complete programme for your own computer.  Complete with amplifier and applicator,
This system can be loaded onto both your desk top and laptop, in order to facilitate a mobile service. 
You get to be able to load it on to two separate systems, e.g. laptop and pc.
The beautifully wood-sculpted applicator is individually made and ensures a full round tone and cymatics precision is maintained.
The authentic organic feel, offers durability and reliability for long term and flexible use.
Over 20 categories of  choice providing 650+ frequencies that cover  physical, medical conditions, medical, physcological and Bach Flower Remedies, Essential Oils and Colours, Nneurallogical  and Etheric conditions.


Benefits
An easy self loading and set up programme
Complete with 12 months guarantee  and the full Software support
Range of add-ons for use by professional physiotherapy practitioners
Ultra easy programming suitable for beginners and professional practitioners
Integrated easilyinto almost all other types of complementary therapy
Produces excellent results with minimal training required.
Over 650 original Cymatics sound frequencies
In built Case Recording facility
Allows user to make bespoke treatment programmes
Set the playing time for individual frequencies
Running  the frequencies consecutively means you can leave your client to relax completely 
Use with or without applicators allows you to be more flexible, work with groups and maximise time
Built in vibrational imprinting facility to make own remedies, this makes bespoke remedies while you are in session (an additional source of income)
User guide with European Code and list of Cymatics Frequencies included
On line Telephone ssupport to get you started and additional coaching available
The cost has been set to make it  an affordable investment opportunity for home users and Practitioners of Quantum Therapies.
It has been inspired by the vision  and research of the late Sir Peter Guy Manners MD and endorsed by Lady Doreen Manners.